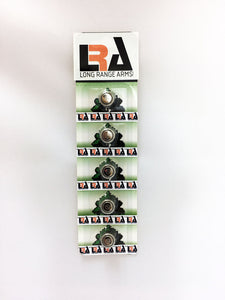 CR1/3N Batteries - Set of 5
These products can expose you to chemicals including lead, nickel, cobalt, aluminum, cadmium, brass, carbon or copper which are known in the state of California to cause cancer, birth defects and other reproductive harm. For more information go to www.p65warnings.ca.gov .

The LRA Replacement Battery pack comes with 5 CR1/3N lithium batteries and 5 Long Range Arms sticker tabs. The use of these high quality batteries will ensure the longest battery life for your Send-it level. We have included LRA Stickers to ensure easy removal after each use.
For instructions on how to check your battery level and/or replace your battery click here or use the reference below.
BATTERY REPLACEMENT INSTRUCTIONS

The Send iT level requires one CR1/3N lithium battery, which is a 3 volt battery.  Use high quality batteries for the longest power life.
To remove the battery, pull the cover off the main body of the level.  Do not pull on the knob.  It stays attached to the main body while the cover slides off.  Replace battery and slide the cover back onto the main body until it snaps over the o-ring.
To ensure your next battery replacement goes well, take extra precautions to face the fold of the Long Range Arms sticker facing up. This should make your next battery replacement easier by giving you a tab to pull the battery out. Please refer the image below.
Be sure to face the positive end of the battery toward the knob at the end of your Send-it level