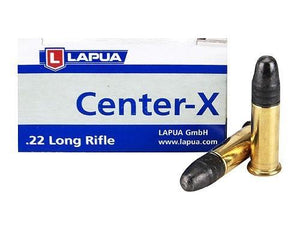 Lapua Center-X
Lapua Center-X is sold per case of 5000 rounds. If you would like to know lot # Message us and we will let you know which ones are in stock. 
Lapua Center-X .22 LR 40 gr Center-X LRN Rimfire Ammo - 50/box are designed with the most attention to detail and care to ensure precise firing rounds for your weapon. Every cartridge is checked individually to ensure it is able to pass these tests.
Many lots are thoroughly tested to ensure consistent ballistic values. Only after passing this rigid testing are the products released for sale. These rounds are fast and reliable and lend themselves well to competition shooting, among other uses.
Lapua Center X
Prompt and personal customer service. A+
Lapua Center X
Prompt and personal customer service. A+