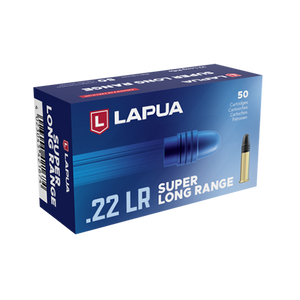 Lapua Super Long Range
Lapua quality has been around for 100 years, and we celebrate by presenting the very best new new rimfire cartridges designed for ranges at 100 m/yds and beyond: The Lapua Super Long Range .22lr cartridge.
The result of extensive product development combined with the world's finest rimfire production process, the Lapua Super Long Range is made and designed for those who are looking for the best of the best in extreme long distance shooting with .22 caliber ammunition. The Lapua Super Long Range rimfire round shows excellent performance on targets at 100 m/yds and beyond and has a muzzle velocity of 337 m/s or 1106 fps. It is the perfect option for disciplines such as Long Range, PRS, rimfire benchrest and Field Target shooting. With a flat trajectory and improved wind performance, Lapua Super Long Range provides the very best accuracy for any top .22LR shooter looking to beat the competition at longer distances.
Ballistic coefficients are calculated by Quick Target Unlimited Lapua Edition from V0 to V75 BC G1 for all rimfire .22 LR bullets = 0.172
Lapua super long range
Well.. it made a 6 inch group at 300 yards with 2.5 mills of wind. My gun likes it.
Lapua Super Long Range
Nedved's service was great. I have been looking for the Lapua SLR since it came out. Shot at the local range last week and if it hadn't been for the lose nut behind the bolt I could have won. Tied for 3rd out of 39 ain't bad either. My 1957 Remington 37 was pretty good.