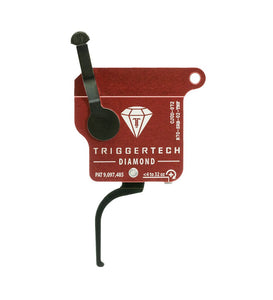 Remington 700 Diamond Straight
rigger Lever Type: Flat Straight
Trigger Action: Single Stage
Pull Weight: <4 oz - 32 oz
Hand: Right
Warranty: Product lifetime
Weapon Platform:

 
Remington 700 Clone Actions
Housing:
7075 Aluminum (anodized)
Key Components:
440C Stainless Steel
PVD Black – PVD stands for Physical Vapour Deposition. It is a hard and durable coating that is applied to external stainless components to give them a clean black color.
All pull weights and measurements are approximate.
***Pull weights of TriggerTech Triggers are directly impacted by firing pin spring weight. Overweight firing pin springs may cause pulls weights to vary above the advertised range***