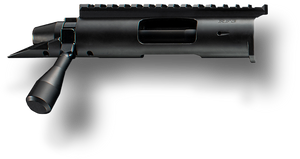 Zermatt Arms RimX Rimfire Action
A true to scale Remington 700 footprint rimfire action designed for training and competition. The RimX action will ship with one 10 round aluminum magazine.
Right Hand-Black-30 MOA Rail
*Federal law requires all actions be shipped to a holder of a valid Federal Firearms License (FFL). Upon purchase of any action we request that your FFL of choice email a copy of their signed license to jason@nedvedprecisionshooting.com in order for the order to be completed and shipped.